THE UNTOLD MAGELLAN STORY
UPDATED
The book is history, not fiction. It is what the title says, The Untold Magellan Story.
"In a very real sense, as you will note from the writing style, I succeeded in getting him across the Great Divide to come and tell you directly about his life, his inimitable achievements, his reflections that may lead to lessons learned for you and me across the 500 years of a limited life on the Earth plane.
Pick up the book, read and enjoy," Charles Avila.
—————————————-
In the Philippines, the Book is available at Solidaridad Book
Shop at 531 Padre Faura street Ermita, Manila. 
Call +632 82541068 for more details.
You can now order the book via Shopee. To buy, click
here
.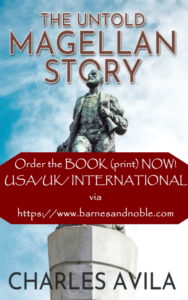 For the USA/UK and elsewhere in the world, the book (print) and EBook versions are available via
Barnes and Noble. 
Click this
link 
on how to buy from Barnes & Noble.
The Philosophy of the Gardener's Tales
In this site I want to recount the gardener's tales, the many stories around us of seeds planted, plants blooming, disasters threatening all and sundry, a world age coming to an end and a new one starting.
My mother was an accomplished gardener. She grew plants for food and beauty. Unknown to many, she got me to love her art.
When I was but in second grade I already had my garden plots in school which made me leave home daily very early: to see the okras, pechays and tomatoes surprise me with their growth or invite me to a bit more work of weeding and water sprinkling – before formal classes would start. I learned not to check my camotes too often if I ever hoped to see them survive. It was best to leave them be. The bougainvilleas, birds of paradise, roses, and fruit trees like the santol, caimito and the guyabano that my mother took very good care of were not for school but she was so faithful in the garden chores at home that I learned a lot more than expected.
I left home for high school studies in another town and did not do much gardening there at all. In college, however, in the novitiate of the seminary in distant Manila, the opportunity for gardening opened up again. We – a classmate of mine from Mindanao and another from Southern Luzon – got so seriously into the action that the community had quite a surfeit of eggplants, okras and pechays, plus peanuts, too, and sweet potatoes.
When later this same class moved to much cooler Tagaytay we took to gardening in the new land more creatively and proudly, this time with great help from an Irish exchange student who also loved the soil, and as mere assistants of German brothers who were more permanently committed to the act. In any case it came natural for us to use the language of seed and soil when we started organizing farmers' associations for the ends of social justice. Realizing we'd have to move on before long, we decided to go beyond pineapples and lettuce and tomatoes and okras and camotes to serious orchard development for successor classes to continue and to tend. True enough, today more than forty years later that school is proud green and pretty – a veritable local tourist destination.
All through exile years in North America saw me find a way back to gardening for vegetable self-sufficiency. And now back here, my family got a tenth of a hectare of good volcanic soil near old Tagaytay, in a leisure farm which is really just a small garden that keeps me self-sufficient in veggies, assures my lungs of good fresh air and my circulatory system strong and daring.
Let me tell you, however, that this is not what gardening is all about. I looked around to hear the voices of other gardeners and I came across Cassidy S. Dale. He tends "The Knight and The Gardener Blog" and he allows me to quote him liberally, which I shall do right now to elucidate our common worldview.
Dale says: "Gardeners see themselves—and all people and things—as part of the growth of a great, cosmos-spanning Garden, one that can flourish further if aided by well-meaning and inspired people. Gardeners believe the primary calling of good people is to cultivate the Garden through planting, good planning, the pursuit of transformative discovery, invention and innovation, and artistic revelation. Any constructive endeavor is a Gardener's endeavor." I quite agree.
He also says: "A Gardener looking down on the world from a space capsule would see a great Garden of lush jungles, farms, the construction or rejuvenation of beautiful cities, and new opportunities in the now-barren places. And over the blue parts of the globe, the Gardener would see a shining silver rain fall silently into a swirling silver sea. For Gardeners… all of Creation is involved in one great act of giving birth."
He continues: "Gardeners also idolize pioneers, innovators and midwives of the future…. Gardeners find meaning in contributing to growth—and tend to avoid conflict that could jeopardize that contribution…. Gardeners look for challenges and opportunities, and seek partners rather than enemies.[However,]Gardeners are not conflict-averse or non-confrontational. They will fight to protect a Garden…After all, every farmer keeps a rifle in the house for emergencies. Only when the greater vision of the Garden is kept in view will Gardeners engage in a smaller conflict against weeds, pests, or interlopers."
Finally, Mr. Dale says: "For Gardeners, the biblical pattern is of God's people leaving the womb, crossing a wilderness, and creating a 'wow'—an awe-inspiring future with God. Adam and Eve left the Garden and created humanity. Cain went east of Eden and created the first civilization. Noah went out across unknown waters and created a new beginning. Moses took his people out of Egypt across a desert to the Promised Land. Jesus left his home, went out into the wilderness and came back with the vision of the Kingdom of God… For Gardeners, refusal to leave the womb, to cross the wilderness and birth a 'wow' results in spiritual death or frozenness—just like Lot's wife, who became a pillar of salt when she would not leave her past behind… For Gardeners, Jesus' miracles were not evidence of power, but of God's intention to restore people to their ability to participate in his Creation…. Gardeners' primarily ask: What womb am I called to leave? What wilderness am I called to cross? What 'wow' am I called to give birth to?"
In this blogsite, then, we'll share with you the gardeners' tales, the many stories around us of seeds planted, plants blooming, disasters threatening all and sundry, a world age coming to an end and a new one starting. Welcome to the version 2.19 of thegardenerstales.com!!!!  -Ka Charlie